Navratri translates to 'nine nights' in Hindi. Unarguably, one of the most significant festivals of India, Navratri is celebrated with much grandeur every year. There are a total of four Navratris that fall every year; however, only two of them – Chaitra Navratri and Sharad Navratri – are celebrated with fervour. The other two are 'Gupt Navratri'. Chaitra Navratri falls in the Hindu month of Chaitra. According to the Gregorian calendar, Chaitra Navratri typically falls around March or April. From observing fasts to worshipping nine forms of the Goddess, Hindus around the world celebrate the festival in a myriad ways. Some people also perform elaborate pujas at home and make multiple offerings like fruits, milk, flowers and different kinds of prasad.
When Is Ashtami  And Ram Navami?
This year Chaitra Navratri would start from 25th March 2020 and would end on 2nd April 2020. Thw Ashtami falls on 1st April, while Ram Navami would be celebrated on 2nd April 2020.
(Also Read: Navratri 2020: How To Make A Delicious Navratri Thali At Home)
Significance Of Chaitra Navratri:
On the pious occasion of Navratri, nine incarnations of Durga are worshipped. The nine manifestations of Durga are Shailaputri, Brahmacharini, Chandraghanta, Kushmanda, Skandamata, Kaalratri, Katyayani, Mahagauri and Siddhidhatri. Many Hindus refrain from eating non-vegetarian food, drinking alcohol and even quit smoking during this auspicious period. While at home, many people who are fasting, choose to have light, sattvik food, which is cooked without onion and garlic. Some people even observe the 'nirjala fast', which should ideally be avoided by pregnant women, older people and those who are sick. In 'nirjala' fast, one is not supposed to have even a drop of water while fasting. However, most devotees choose to keep the phallar fast, wherein they can take a mix of fruits, vegetables, milk and water. No grains, cereals, legumes or meat are allowed during Navratri fasting. So what is the logic behind this fasting you ask? In addition to the religious reasons, it is believed that eating light at this point of time is god for your digestive system. Both Sharad Navratri and Chaitra Navratri are celebrated around season change. During these seasonal transitions, our immunity and digestive system tend to weaken, which is why it is advised to eat light and a give a break to your body.
While it is absolutely your choice whether you want to fast or not, if you are observing the ritualistic fast here are some of the dishes you can try.
 
Vrat Dishes
Makhana Kheer: Makahana or fox nuts are delightfully puffy and crunchy and go very well with milk. You can add other dry fruits to the mix too.
​(Also Read: Indian Cooking Tips: Try Low-Cal Masala Makhana For A Healthy Mid-Day Snack (Recipe Video)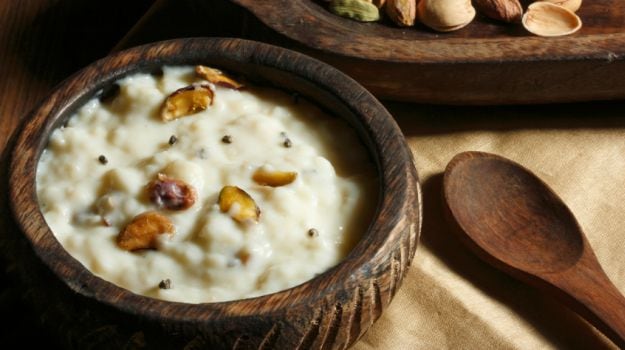 Sabudana Khichdi And Dahi: Sabudana is another superfood you can have during the vrat. You can temper your khichdi with spices and peanuts and have it with dahi. A delectable combination you would thank us for.
Kuttu Ki Poori And Alu Tarkari: Kuttu or Buckwheat has low glycaemic index which is good for your blood sugar levels. It has a distinct, earthy taste, you can pair it with simple potato curry
Aloo Ka Halwa: Is there anything a potato cannot do? The versatile tuber can be fashioned into a halwa as well. Try this recipe and let us know how you liked it.
​(Also Read: From Mirchi Ka Halwa To Haldi Ka Halwa: 7 Interesting Indian Halwas You May Have Not Tried Yet)
Samak Ke Chawal And Ajwaini Paneer Kofta Curry: The Navratri special gravy is for all paneer lovers, the feisty curry can be paired with Samak Ke Chawal
Happy Navratri 2020 everybody!
About Sushmita SenguptaSharing a strong penchant for food, Sushmita loves all things good, cheesy and greasy. Her other favourite pastime activities other than discussing food includes, reading, watching movies and binge-watching TV shows.