Learn how to make bakery quality Pecan Sticky Buns at home with this step-by-step guide. A fluffy yeast dough, cinnamon sugar filling and a gooey pecan topping make these sticky buns irresistible.
Is there anything better than a homemade sticky bun fresh from the oven? It's a toss up whether I love these buns or my Apple Cinnamon Rolls more on a cold winter day.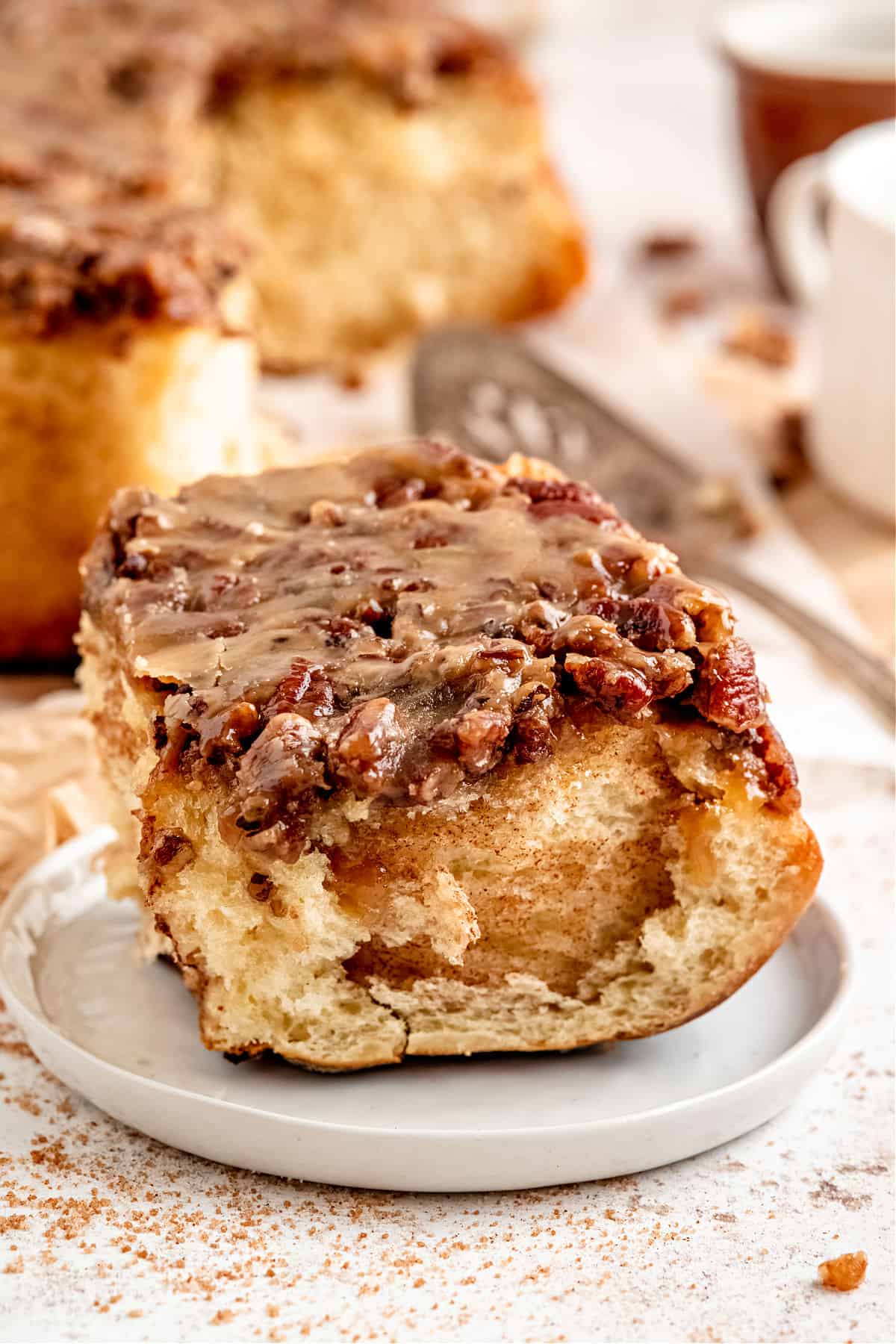 What is the Difference Between Sticky Buns and Cinnamon Rolls?
Sticky buns and cinnamon rolls are nearly identical at first glance. Depending on the recipe, they both use yeast leavened dough rolled into pinwheels full of cinnamon sugar.
The main difference is that sticky buns include nuts while cinnamon rolls (typically) do not.
Cinnamon rolls are often topped with cream cheese frosting whereas pecan sticky buns have a brown sugar topping that turns to a gooey glaze as they bake. That's what makes them "sticky".
Ingredient Notes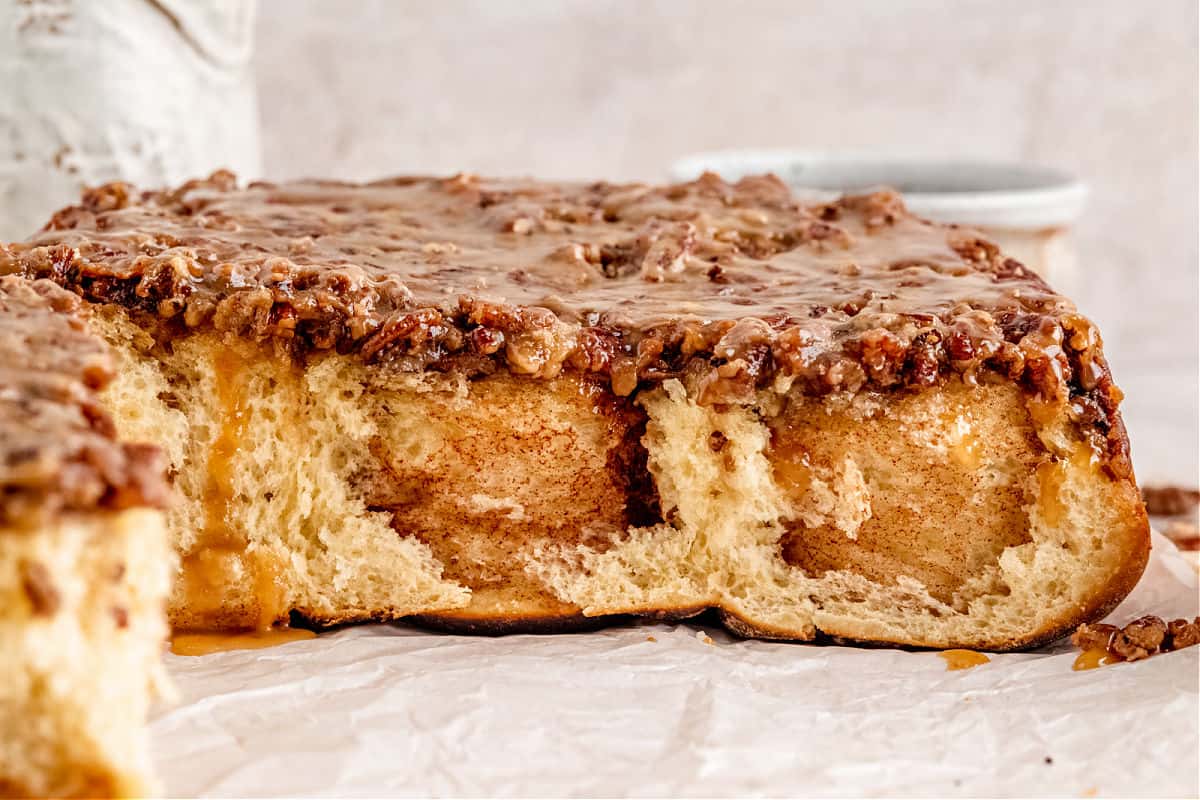 Yeast – Either active dry yeast or Instant yeast can be used in this recipe. Make sure to check the expiration date on your package; old yeast won't rise.
Whole milk – Warm milk is used to proof the yeast and add liquid to the dough.
Unsalted butter – We prefer unsalted to have more control over the saltiness of the baked buns. You can use salted if that's what you have. Just omit the added kosher salt.
Light brown sugar – This is what gives the pecan buns their sticky, gooey, golden brown topping.
Instructions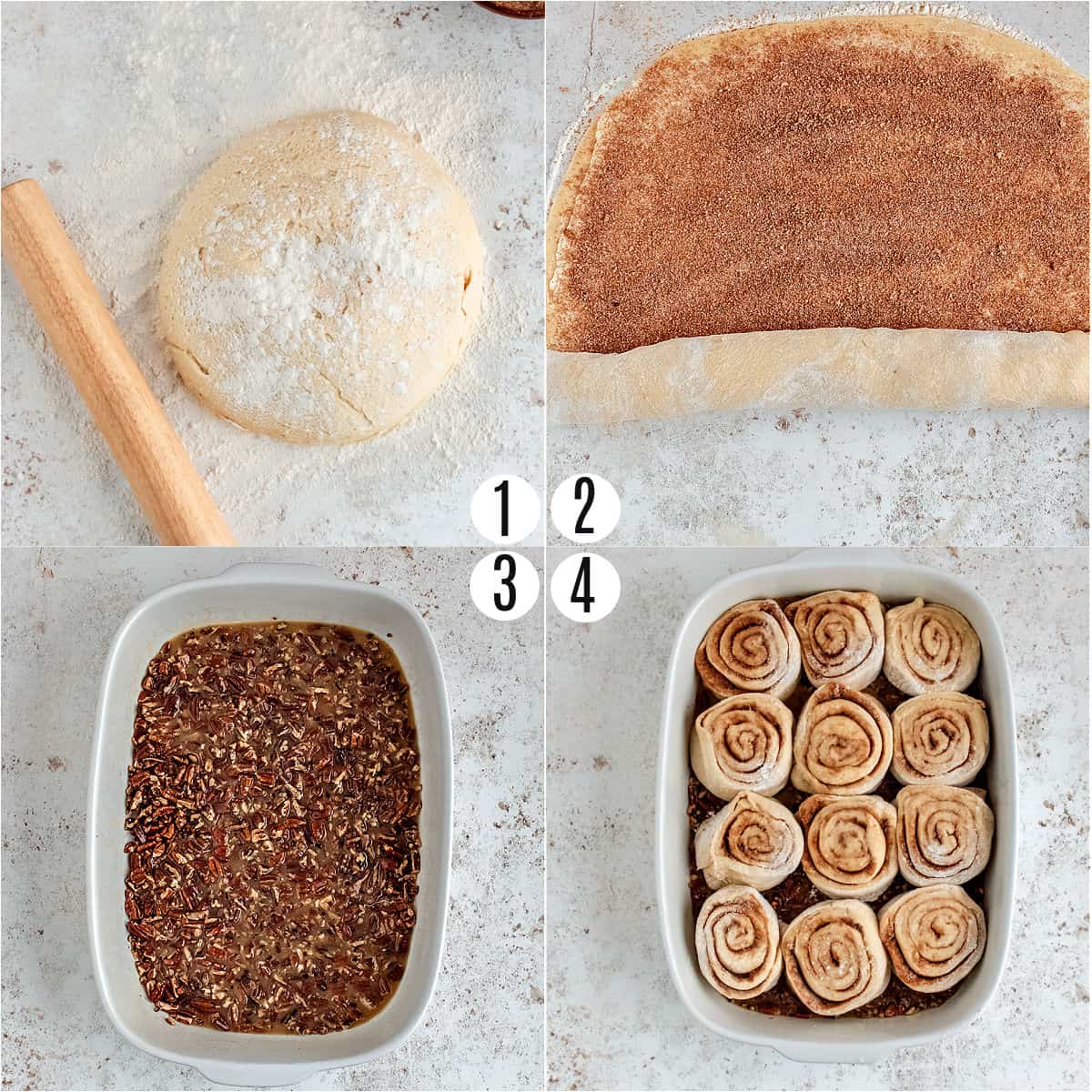 Making Pecan Sticky Buns starts by proofing the yeast with warm milk and sugar. When the yeast mixture is frothy, add the liquid then dry ingredients for the dough. Mix and knead until it feels soft, stretchy and supple.
Now, let the dough rise for at least an hour in a warm place.
To make the pecan topping, sprinkle pecans over the bottom of a baking dish. Combine the remaining topping ingredients in a sauce pan on the stove, then pour it over the pecans.
Once the dough is risen, roll it out into a rectangle and add the cinnamon sugar filling. Roll into a log, cut into 12 pieces, and place them on the baking sheet with the pecan topping.
Cover, let rise for an additional hour, then bake and enjoy!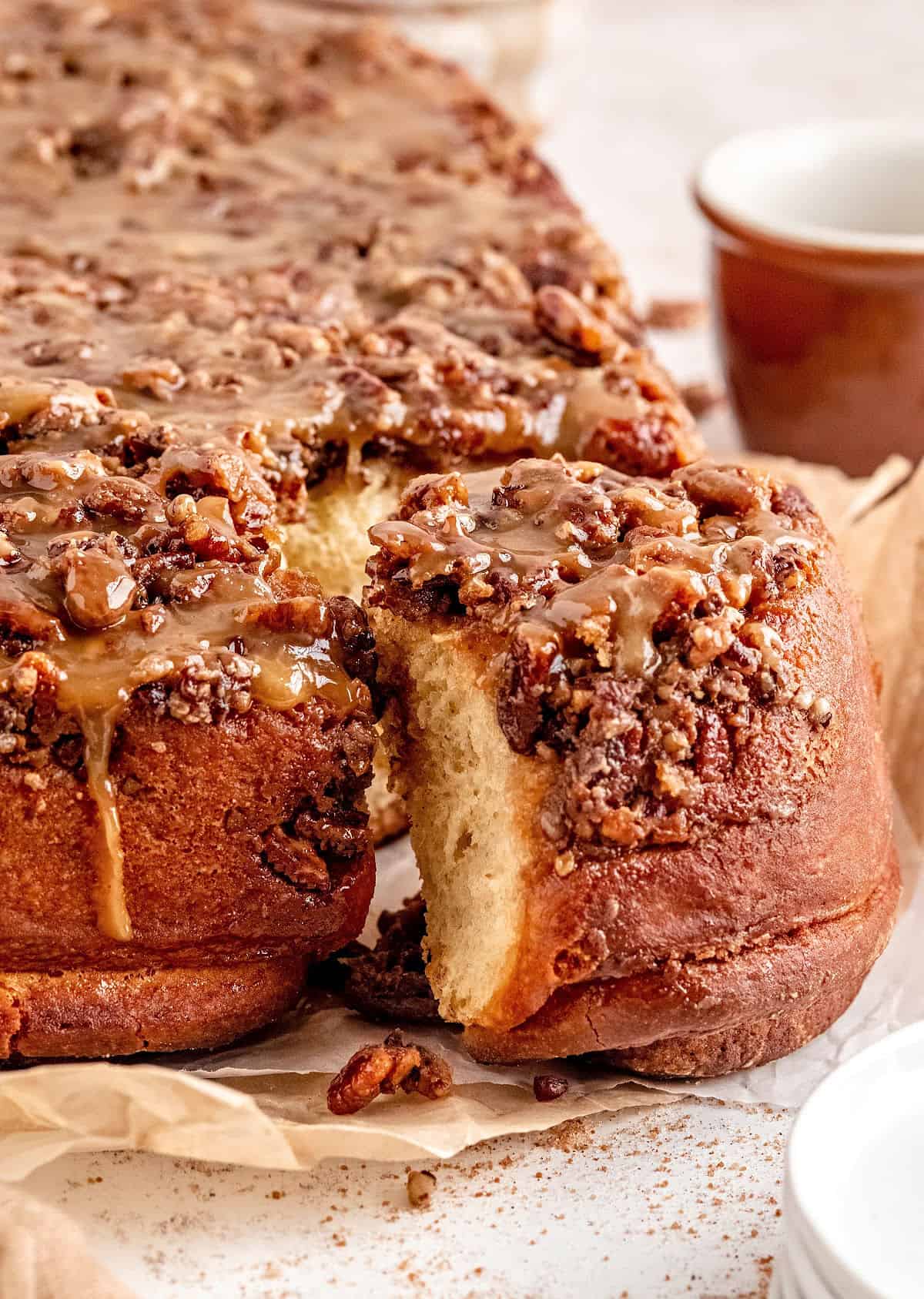 Tips and Tricks
Cover the buns halfway through baking time. This keeps the tops of the buns from browning to quickly.
After baking, place a platter over the top of the baking dish. Flip the dish over to remove the buns from the pan with the pecan filling on top.
Pecan Sticky Buns taste best served warm. Leftover buns can be reheated in the microwave for a few seconds before serving.
Store leftover sticky buns covered in the refrigerator for up to 5 days. Or freeze for up to 3 months!
Recipe FAQs
How can I prep sticky buns ahead of time?
Since making pecan sticky buns from scratch is time intensive, we often like to prepare the dough the night before.
To make the buns ahead of time, follow all the steps in the recipe instructions for making and assembling the rolls. Then cover the pan with foil and store in the refrigerator overnight.
Take the unbaked buns out of the refrigerator about an hour before baking to bring them to room temperature. Preheat the oven and bake as directed.
Can I knead the dough by hand instead of using a dough hook?
You can absolutely knead the dough by hand. It will take longer but hand kneading works perfectly fine.
Why isn't my dough rising?
If your dough hasn't visibly risen after an hour, chances are your yeast is dead. That's why it's so important to proof the yeast in the first step of this recipe.
Your dough will also rise much more slowly if the temperature of the room is too cold. Make sure to place it in a spot no cooler than room temperature.
How can I tell if my yeast is fresh?
Baking yeast is made of single celled microorganisms that need to be alive ("active") to work in bread recipes.
The act of "proofing" the dough can tell you whether or not your yeast is active.
In this sticky bun recipe, you will proof the dough by dissolving it in warm milk with sugar. After 5 minutes, the mixture should become bubbly and foamy as the live yeast releases carbon dioxide bubbles.
If there's no hint of foaminess in your yeast mixture after 10 minutes, your yeast is probably dead. Grab a fresh packet and try again!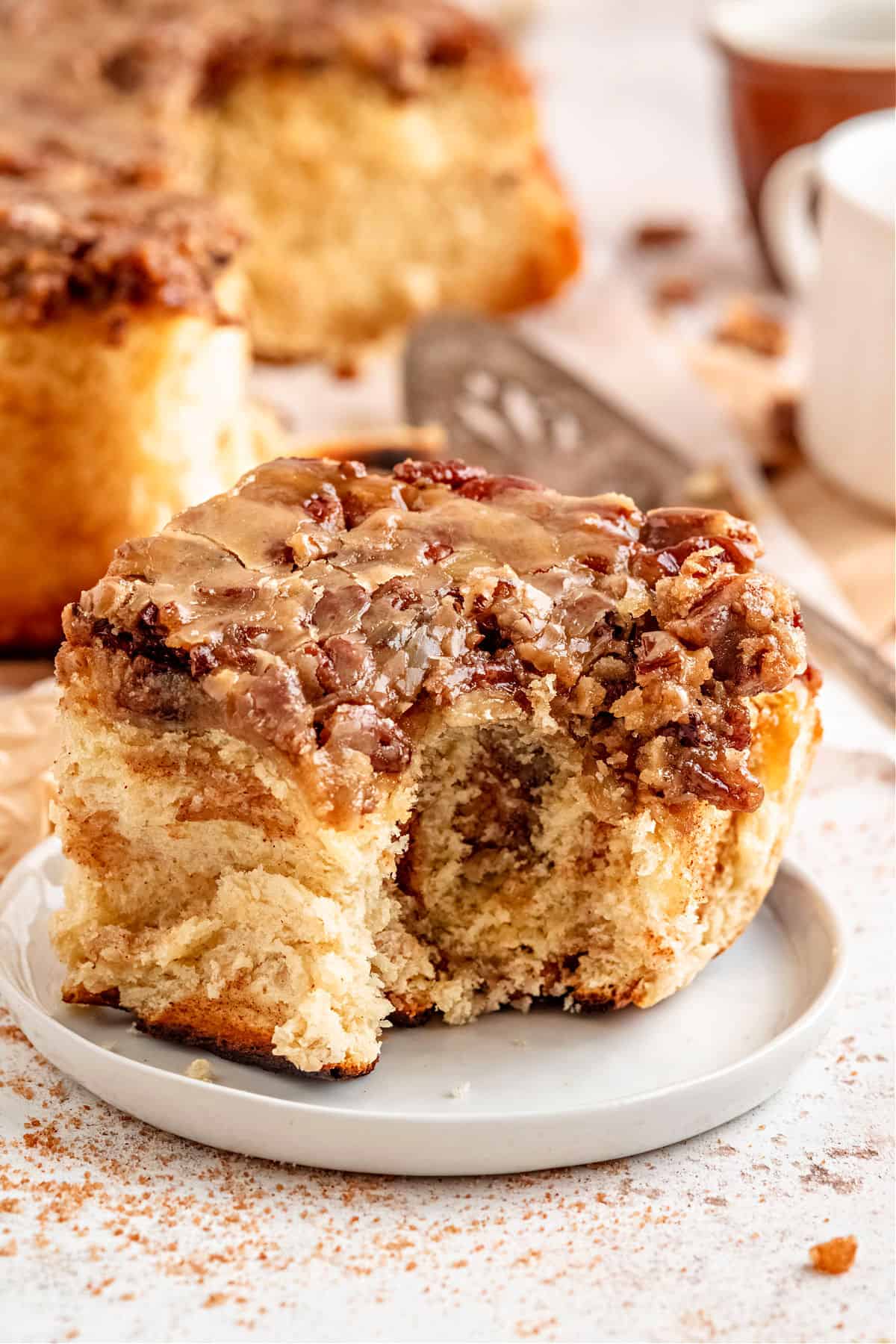 More Breakfast Favorites
Homemade Pecan Sticky Buns make any morning cozier!