It is the season of mangoes and we've got the best of our Indian recipes for you to try at home.
Let's just agree that the primary reason for most of us to wait for the peak summer season is only the sweet and juicy mango or aam. And well, we don't blame them. After all, this gorgeous, bright yellow summer fruit is pulpy, brimming with sweetness and is super versatile! While a riped mango can be used in juices, salads, chaats and desserts, raw mango is a favourite in India for chutneys and pickles. No wonder it is known as the 'king of fruits'!
Here we've got some of the best Indian mango recipes that one can try at home with mangoes this season!
11 Best Indian Mango Recipes:
1. Mango Kalakand
Kalakand is a simple sweetmeat that is said to have originated in Alwar, Rajasthan. While it might look complicated to make, it is just a matter of a few simple steps to have this as a decadent post-meal dessert at home. In this recipe, chopped alphonsos are mixed with milk, homemade chenna and saffron. These are combined together and spread on a tray to set. Simple, fuss-free and irresistible!Find the recipe here.
(Also Read: 7 Best Mango Dessert Recipes)
2. Aam Chana Chaat
A light, wholesome, tasty yet healthy, this aam chana chaat can be a perfect summer meal for breakfast, brunch or a guilt-free evening meal! Find the recipe here
3. Raw Mango Chutney
Pair it with chapatti or a simple dal, aam ki chutney can spruce up anything and everything on your platter. All you need are a handful of peeled and chopped raw mangoes, some sugar, spices and herbs! Find the recipe here.
4. Aam Papad
A simple three-ingredient recipe, aam papad is a sweet and spicy relish available in myriad versions all across India. It comes in unique shapes, flavour and textures, giving us more reasons to indulge! Some may like the sweet, jam-like aam papad, while others may prefer the tangy and spicy, almost tamarind-like. Nonetheless, it is sure to satisfy all those cravings! Here's how you can make it at home.
5. Mango Kulfi
Is there a better combination than summer, mango and kulfi? Well, there can't be! Kulfis have been a part of Indian cuisine since ages and is undoubtedly one of the most loved desserts. We've got a stellar recipe here in which you can enjoy the best of both mangoes and kulfi together. Find the recipe here.
6. Raw Mango Dal
A refreshing summer treat, raw mango dal is nothing but yellow lentils (toor dal) cooked with unripe mango pieces. The tanginess of raw mangoes lends a delicious flavour to the dal. It can be a quick, easy, light yet wholesome lunch when paired with rice or chapati. Find the recipe here.
(Also Read: 5 Healthy Mango Recipes That Combine Flavour With Nutrition)
7. Aam Jhol
Beat the scorching summer heat with a chilled glass of aam jhol. Similar to what is popularly known as aam panna, aam jhol is a hearty blend of raw mango, mint and a host of spices including black salt, cumin and and salt along with sugar. Find the recipe here.
8. Mango Kadhi
A result of experimentation to utilise even the last slits of mango on the sides and peels, this Gujarati kadhi nonetheless is simply delicious! Popularly known as 'Ras No Fajeto', it is certainly a class apart among the various kadhis we have in India. Find the mango kadhi recipe here.
9. Mango Lassi
Come summers and these chilled beverages make a stellar entry into our refrigerators and diets! Lassi is one of the most popular Indian drinks that for some – it can even be a wholesome meal. Made from yogurt, rose water, saffron, cardamom powder and dry fruits, Mango Lassi makes for a perfect drink to boost the immune system as well besides beating heat. Find the recipe here.
(Also Read: 11 Best Mango Recipes)
10. Mango and Mint Kheer
A delightful mix of rice, milk, mango, dry fruits, nuts and a bunch of mint leaves, this kheer recipe is just the perfect one to gorge on post dinner at home. The addition of mint gives a refreshing flavour to the classic Indian kheer. Find the recipe here.
11. Aam Ka Achaar
Weren't you expecting this anyway? Can a list of any Indian meal be complete without a mention of achaars? And when it is about our beloved aam, aam ka achaar is bound to be mentioned. Made with raw mango and an assortment of spices, here is a classic mango pickle that can give a kick to all your meals. Find the recipe here.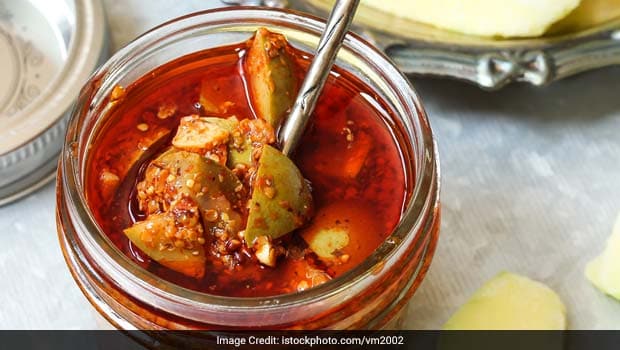 Try these Indian mango recipes at home and let us know your experience in the comments section below.
About Aanchal MathurAanchal doesn't share food. A cake in her vicinity is sure to disappear in a record time of 10 seconds. Besides loading up on sugar, she loves bingeing on FRIENDS with a plate of momos. Most likely to find her soulmate on a food app.