Desserts are a guilty pleasures that are usually eaten after meals. There are a variety of sweet treats across the globe with varying textures, sizes, and shapes. Most of us swear by the sweet indulgence post any meal. The best thing about desserts is that it appeals to all age groups and mostly all kinds of diets. If we delve into a little bit of history, we can find that before 17th century Europe, what we know as desserts actually used to cleanse the palate after courses.
In many parts of the world, sugar was actually supposed to be a rare and expensive ingredient earlier. It was when colonisation around the world expanded the cultivation of sugar, the prices were lowered. It was in the mid-17th century that cookbooks based on desserts alone were published. This video by Insider offers a glimpse into what exactly signature desserts around the world look like.
There are a number of gooey desserts prepared in different ways across the world. Starting with South America, in Brazil, we have the sweet dumpling-like preparation called Brigadeiros, which comes with an interesting history of revolution behind it. In Nigeria, Puff Puff is a delicious deep-fried dessert made with dough and sprinkled with sugar. Coming to Japan, there is the sweet and gooey Mochi dessert which is a widely famous preparation across the globe.
(Also Read: 25 Lesser-Known Dishes That Are Must-Try When Visiting Japan)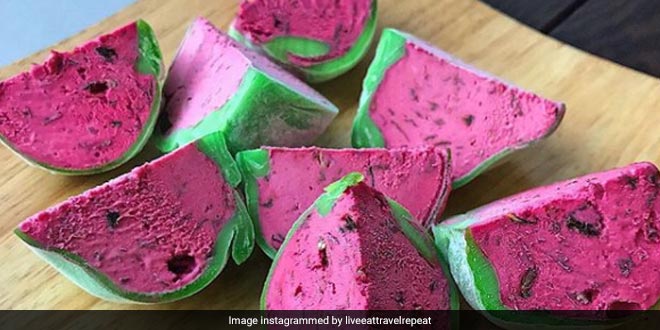 The Mochi ice cream is a famous dessert in Japan. 
The United States' signature dessert Red Velvet cake is often deemed to be the same as a regular chocolate cake, but the video explains how the two are different. The English, meanwhile, swear by the Banoffee pie made with bananas, toffee and whipped cream on a cracker-based crust. The Tres Leches cake is widely popular across Latin America, and the video decodes how it actually came into existence. And have you heard of the Netherlands caramel biscuit dessert called Stroopwafel?
Whether it's the Creme Brulee from France or the Halo Halo from Philippines, the Italian Tiramisu or the Turkish Baklava – the video explores each dessert in great detail with its cultural and historical origin. These delicious signature desserts from various countries across the globe are a must-try whenever visiting them, so add them to your foodie bucket list!
About Aditi AhujaAditi loves talking to and meeting like-minded foodies (especially the kind who like veg momos). Plus points if you get her bad jokes and sitcom references, or if you recommend a new place to eat at.