This mutton stew is one of the signature dishes of Kappa Chakka Kandhari in Chennai.
If someone were to ask me to list my favourite Indian cuisines, foods from Kerala will certainly feature high on that list. It wasn't always like that. I remember a time when I hadn't come to terms with the state's unique flavours. I'm not going to say coconut oil or coconut because that tends to box a versatile cuisine into a stereotype. It was probably the appam (hopper) and stew (or ishtew) that set me on the right path, to discover a cuisine shaped by exquisite local ingredients and centuries of trading, especially with the Middle East. It was at Southern Spice, the South Indian restaurant at Taj Coromandel in Chennai that I first fell in love with the simple yet flavourful stew. 
There's no better accompaniment for the Stew than the Appam or hopper that most of Kerala knows as vella (white) appam, a bowl-shaped pancake cooked with fermented rice and grated coconut, that is soft at the centre. Vella appam and stew is a quintessential dish of the Syrian Christian community in Kerala. It's usually served at special occasions like marriages. Chef Regi Mathew who started Kappa Chakka Kandhari with two other partners gets nostalgic when he talks about Sunday breakfasts as a child in Kerala. While Appam and stew is a classic combination, it's not unusual for many homes in Kerala to combine the stew with traditional Borma bread. 
(Also Read: Chicken Stew and Appam Recipe You Must Try)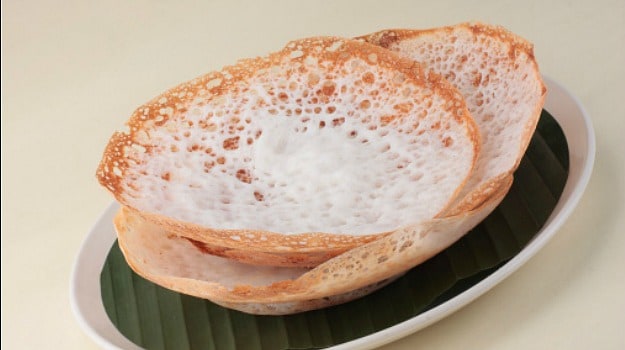 There are two versions of this dish. I'm partial to the Central Kerala stew that uses fewer spices and leans heavily on the coconut milk and subtle flavours of ginger and green chilli. The southern Kerala version incorporates more spices. While most homes in Kerala serve meat based versions (mutton is the preferred option), the pachakari (vegetable) stew is not uncommon. French beans and carrots add colour to this white gravy but I prefer the vegetarian version with just potatoes. While the appam and stew is a traditional breakfast favourite, it's a great option for dinner too. This is one of the many dishes in Kerala cuisine that creates a delicate, yet unique flavour profile with minimal use of ingredients and spices. One of the reasons why Kerala cuisine is up there on my list. 
Kappa Chakka Kandhari in Chennai and Bengaluru, aims to play up the nostalgia with a focus on traditional home-style recipes that Chef Regi and his partners grew up on. Their mutton (or vegetable) stew is one of their signature dishes. You can try this at home. The key is the extraction of the coconut milk, you could opt to craft this with a packaged coconut milk, but it doesn't quite taste the same.  
Mutton Stew Recipe – 
Recipe Courtesy – Regi Mathew, Kappa Chakka Kandhari
Ingredients:
Mutton cubes with bones -500 gm
Sliced Onion -2 nos
Shredded Ginger -1tbsp
Green chilli Slit-3
Curry Leaves- 1strip
Potato Cubes-1 cup
Carrots Cubes-1/2 cup
French Beans -1 inch long – 1/2 cup
Coconut Milk 2nd extract-3 cups
Coconut Milk 1st extract-1 cup
Coconut Oil-2 tbsp
Crushed Pepper Corns -1 tsp
Cardamom -3 
Cinnamon stick – 1/2 inch – 2nos
Cloves – 4 
Salt to taste
Method:
Heat coconut oil, add cardamom, cinnamon, cloves and fry for 15 seconds and put ginger, green chili, onion and curry leaves, saute well.  
When the onion become soft and translucent, add mutton cubes and mix well for a minute.
Add second extract of coconut milk and salt.
Bring to boil and then cook on slow flame till the mutton is half done.
Now add potato, French beans and carrot cubes and cook further.
When the mutton is fully cooked, add first extract of coconut milk.
Add crushed pepper corns.
Check the seasoning and serve hot
 
About Ashwin RajagopalanI've discovered cultures, destinations and felt at home in some of the world's most remote corners because of the various meals I've tried that have been prepared with passion. Sometimes they are traditional recipes and at most times they've been audacious reinterpretations by creative chefs. I might not cook often but when I do, I imagine I'm in a cookery show set – matching measuring bowls, et all!